Exploring The Glimpse Of Best Places To Visit In Satara Maharashtra
September 7, 2017 12:35 PM
|
Posted By: ShubhiGupta
0 Comments
|
260 Views
Related Categories:
destination
Maharashtra a grand state in west-central India has a high potential of tourism. It flaunts over several hill stations, religious pilgrimages, adventure sites, forts and historical monuments, caves and island, sea coast beaches and much more to explore.
Here, I would take you through some distinct region of Maharashtra that is recommended as a beautiful blend of the natural and distinct site that soothe your curiosity.
With this section of this post, I am going to articulate about some beautiful places to visit near Satara in Maharashtra. Prior to moving ahead, you should know that the best hotels in Satara are the precise place to meet entire necessities of accommodation identical to the comfort of your home.
Chalkewadi Wind Mill
At the distance of 40kms from Satara, you can enjoy one of the largest windmill sites in Asia. You will be wonder to see this plateau region has been specially developed with setting hundreds of huge windmills throughout the area. Moreover, you can enjoy the stunning look of a myriad of whirling windmills even in the night or at dawn by availing hotels near the windmill in Satara. This is literally very immersing.
Thoseghar Waterfall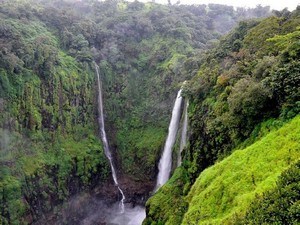 Literally, nothing would be so amazing to watch Thoseghar waterfalls near Satara in Maharashtra towards enjoying an unforgettable leisure. Even a myriad of people likes to spend a great time with family and friends at this picnic spot. The Thoseghar waterfalls have a maximum height of 500 meters that is literally impressive and drag uncountable tourists.
Aundh Museum Satara
Aundh Museum near Satara is located 26 miles south east of Satara. The museum is situated near a very old temple of Devi Yamai at the hill top. The museum is recommended for art lovers, which boasts beautiful and antique pieces of painting and sculptures. An original sculpture of Henry Moore is the center of attraction.
KVK in Satara
KVK is Krishi Vigyan Kendra, a renowned farm science center of eco-tourism activity established by ICAR, New Delhi. This is the precise place to visit for fertilizer making, articulation of vegetable and fruits plantation and also the soil testing lab. For flawless exploring, you can ask hotels in Satara. They will assist to fulfill your entire requirements and comfort.
Ajinkyatara Fort
Ajinkyatara Fort Satara is located at one of the seven mountains that surround the whole city. The television tower of the city also sits over this fort at an altitude of 3,300 feet. You will love to enjoy a beautiful glimpse of Satara city in eye-bird view.
Kaas Lake
Among immersing sceneries, Kaas lake Satara has a significant place in reflecting the amusing glimpse of the beauty of nature and Kaas Pathar. This lake is about 100 years old and surrounded by forest, hills as well as wild and blossoms flower. In nearby, you can locate Kaas Pathar hotels to meet the necessities of meals and accommodation as well as watch landscapes from the hotel's room too.
However, these are some selected places to visit in Satara in Maharashtra and have a good leisure time with memorable moments to enjoy and retain forever. Further, let's have a look at some places to visit in Phaltan.
Most Beautiful Places to Visit in Phaltan Maharashtra
Phaltan Rajwada also named as Mudhoji Manmohan Palace. He ruled the Phaltan state from 1860 to 1916. This is an old palace standing in the city of Phaltan embellished with adorned walls and rich oil painting reflecting a sense of royal lifestyle.
Ram Mandir Phaltan
This is one amongst the stunning religious pilgrimage in Phaltan situated with the adjacent wall of Rajwada. The incorporated black stone idol of Ram, Sita, and Laxman is the point of attraction.
Windmill near Phaltan
This is also recommended as the best picnic spot. It is the enormous wind turbine of the windmill farm that drags a myriad of people and renders their vacation into fun and pleasing moments.
Apart from the places to visit, the restaurant in Phaltan and hotels in Phaltan Maharashtra are also worthy to spend time. In restaurants, you can savor a wide range of local and other world renowned dishes and food stuff. On the other hand, the hotels endow a pleasing moment to soothe yourself in the nature of lap and stunning landscapes. Another point of attraction is the Cummins Megasite in Phaltan, which has covered a massive area of 300 acres.
Exploring More Places in Maharashtra to Visit beyond the Expectation
Mumbai is not reliant to any introduction. For every age group and every occasion tourism near Mumbai has something to offer. This literally delivers an immense sense of fun and enjoyment that you always love to revive. Amongst many, you may put eco resort near Mumbai on first priority, if intending to have a break from a hectic schedule and enjoy a time of peace and comfort.
If you are expecting adventure and thrill in your life then opt adventure resorts near Mumbai. Weekend drives from Mumbai is also a best option to move along.
In the context of enjoying agricultural auras like plantation of fruits, vegetables, plants and etc. you may prefer to go with either Agro tourism near Mumbai or Agro tourism resort near Mumbai.
Best pizza near Mumbai or Fla
No comments.
Login to post a comment.