How To Enjoy Your New York Holiday?
Traveling is an unquenchable thirst and requires meticulous planning if you want to make the most of your trip. New York is an expensive city, but if you plan well you can certainly enjoy a holiday in your budget. There are several tourist attractions in New York that you must explore when holidaying in New York like the iconic Empire State Building and huge Central Park. It is one of those international holiday destinations, which would give you a chance to see a well-developed and architecturally beautiful city. You can also enjoy various outdoor activities, day tours, dining, nightlife, dinner cruises and so much more.
Booking air tickets to New York
To enjoy your holiday, it is most important to visit New York when the season is apt. The best time to visit New York is April to June and September to November. So make sure you book your tickets accordingly. You can easily book cheap air tickets to New York if you plan your trip in advance. Last minute flight booking will surely prove expensive.
To book your tickets, you can choose a reliable online travel site and compare prices of various airlines. If, for instance, you need to book London to New York flights, simply search for the same on any worthy travel site that offers air tickets booking and it will display all the flight information like airlines, flight timings, price and other important details. You can book conveniently from your home.
Do your homework
Before you visit New York, you must do your homework of finding out the key attractions and things you must do in New York. Accordingly, you can plan the itinerary. Also, most important is to find an accommodation in your budget. So research well, as a lot will depend on it.
Important landmarks
New York is the home to Statue of Liberty, one of the Seven Wonders of the World. You can also have a look at the Empire State building which is a 102-storey building located in midtown Manhattan. Both of these would leave you awestruck. Other places to visit are the Ellis Island and the Brooklyn Bridge, where a huge number of tourists can be seen at all hours enjoying the marvelous view it has.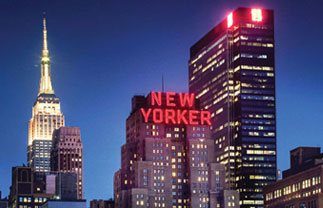 If you are a museum lover, then New York is the city you must visit. With Madame Tussauds Wax Museum, Brooklyn Children's Museum, Children's Museum of Manhattan and the Children's Museum of the Arts, you would not run short of places where your children can spend some quality time with you and learn a few things.
Zoos and Aquariums
There are several zoos and aquariums in New York worth exploring especially with children. Though there are many, popular ones with the widest variety of animals would be Bronx Zoo & aquarium, Prospect Park Zoo, the Queens Zoo, the Staten Island Zoo, and the New York Aquarium.
Casino and Winery
For some more fun, you can go to the Resorts World Casino to play some high stake games or maybe just get a feel of the atmosphere while enjoying the drinks and food. City Winery is a must visit, if you are a food lover or just someone who wishes to explore the taste loved by the city.
Parks & Lakes
New York has several parks and lakes that you can visit with your family. They are ideal for a picnic or a day out. You can visit the famous Central Park, Battery Park, Union Square, and Bryant Park. Famous lakes are Wagner Cove, Gowanus Canal, and Harlem Meer.
Hop on Hop Off Bus Tours New York
You can also go for Hop-on Hop-off Bus Tours that will take you on a sightseeing tour to all the popular sights and landmarks. You can get a great city experience on the Downtown, Midtown, and Uptown bus route while getting a glimpse of the culture, history, and people.
So you see there is so much to enjoy in New York. So plan in advance and plan well for an enjoyable trip.