Al Battistero D'oro, The Perfect Place To Admire The City Of Parma
April 30, 2018 1:57 PM
|
Posted By: Parisha Sharma
0 Comments
|
233 Views
Related Categories:
Travel
Al Battistero d'Oro is a charming B&B located in Parma, Italy. The owner will welcome you in its private home where you can find a comfortable and elegant environment. Everything in the house, from the architecture to the furniture reflects the beautiful Italian style. The owner decided to open his house to guests to show them the beauty of his beloved city.
Your vacation will be quiet and peaceful, in a comfortable ambience with spacious, bright, well-appointed rooms. This charming B&B includes 2 Art Boutique Suites and 1 Flat. The Duchessa Room has a Queen sized bed, a private bathroom with shower and a private access. The Reina Room has a Queen sized bed,in addition you can ask for a single bed to add. The private bathroom has shower and bathtub. Both rooms are equipped with cable TV, Wi-Fi connection, air conditioning and a kettle with coffee and herbal tea. The bathrooms are equipped with hairdryer and toiletries. A delicious breakfast is included and will be served in the room or in the dining room. Every morning you will enjoy the best fresh fruits and juices, bread, biscuits and homemade yogurt. If you have particular needs such as food allergy do not hesitate to ask and a special breakfast will be prepared especially for you.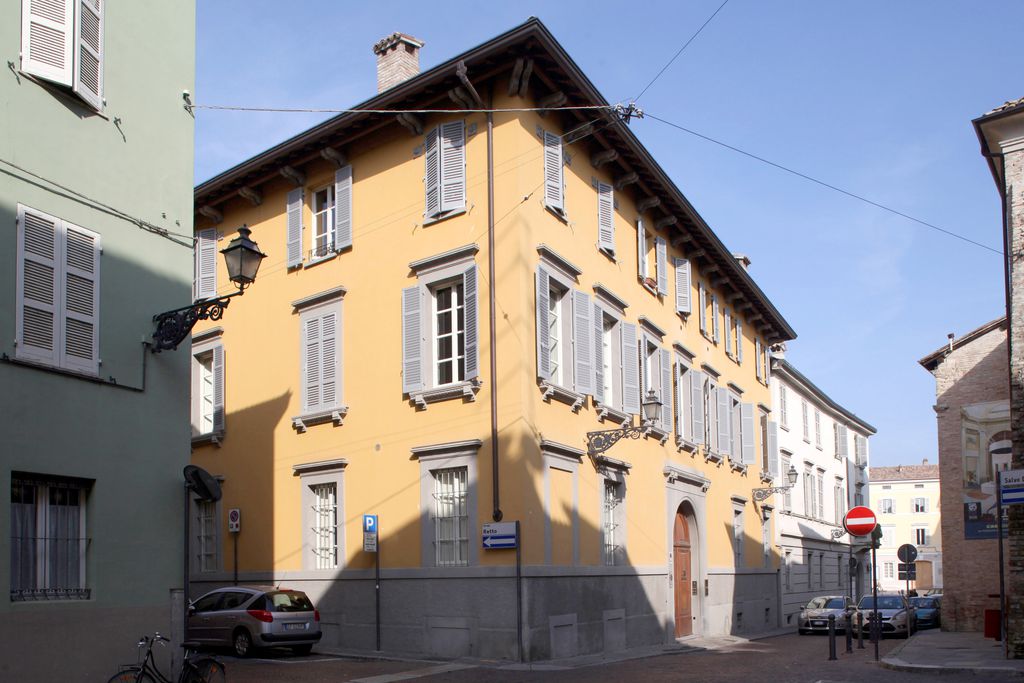 If you need more space and privacy you can choose the Cathedral Flat, located in a 17th century palace with striking vaulted ceilings. The flat can accommodate up to 5 people. It is formed by a bedroom, a living room with sofa bed, a dining room, a little but full equipped kitchen corner and a bathroom with shower. The flat has air conditioning, TV, WiFi, microwave, refrigerator, dishwasher and kettle.
Al Battistero d'Oro charming B&B is the perfect place to admire the city of Parma, rich in art and history in every corner. From the B&B you can reach in a few minutes the Baptistery, a masterpiece of medieval Romanesque and Gothic style and admire its statues and frescoes. Close to the Baptistery is the Cathedral of Santa Maria Assunta with the Correggio frescoes in the dome. The owner will be glad to arrange a visit to those wonderful places and find you a private guide to explore Parma. The city is well known also for its traditional delicious food. In fact you can take a gourmet tour experience to discover food and wines or take cooking lessons with English speaking teachers.
Visiting the area outside the city, you will discover several impressive castles dating back to the Middle Age and the Renaissance. Their walls and towers hosts the masterpieces of great Italian artists such as frescoes, statues, paintings and decorations. The most important are Colorno Palace, Torrechiara, Fontanellato Castle, Montechiarugolo, Roccabianca, San Secondo and Scipione. You can reach them in less than half an hour.
The owner will give you advice on restaurants, cinemas, theaters and other entertainment in Parma, assisting you with reservations and tourist information.